The Late Night Lunch 2021
On September 24th, NDML proudly sponsored the Late Night Lunch, a luncheon uniting the 200 guests from the Late Night sector. Business owners, stakeholder, suppliers and partners all came together from all over the UK to meet at Old Trafford, the Theatre of Dreams.
The large scale event was used to not only celebrate the Late Night sector but also to raise awareness and money for the Tim Bacon Foundation. The Tim Bacon Foundation continues to support individuals and families from the hospitality and leisure industry who have been impacted by cancer.
The Late Night Lunch was organised and headed up by NDML Nightlife Ambassador, John Hayes. John was on top form, celebrating his 75th birthday. He took charge of the bidding of auction items which included a signed Manchester United football and a framed picture of rugby legend Martin Johnson.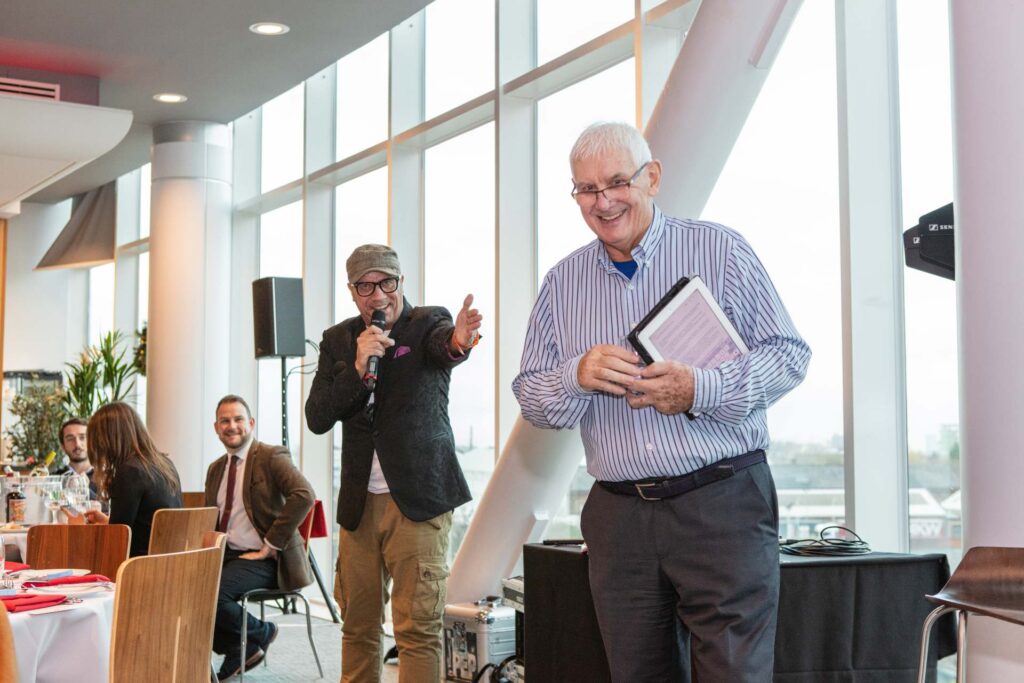 "We will be asking for your support. We will not be embarrassed to squeeze that last pound out of you for an auction item, a raffle ticket (or 2!), heads and tails – in fact my last kidney if it raised enough!"

John Hayes, Nightlife Ambassador
A Prestigious Affair
Special guest speakers included Keith Hackett, ex-top flight English referee, who spoke on people management and some of his experiences in the game. Peter Marks, CEO of REKOM UK held a panel and q&a on the goings-on in the late night industry. He discussed the massive impact COVID has had on the sector, listed government handouts many businesses like his were not entitled to, and touched on the new challenges facing the nightlife sector. He spoke curtly and openly, answering audience questions with honesty. The questions were poised upon praise of his hard work throughout the pandemic, and Peter was very well received.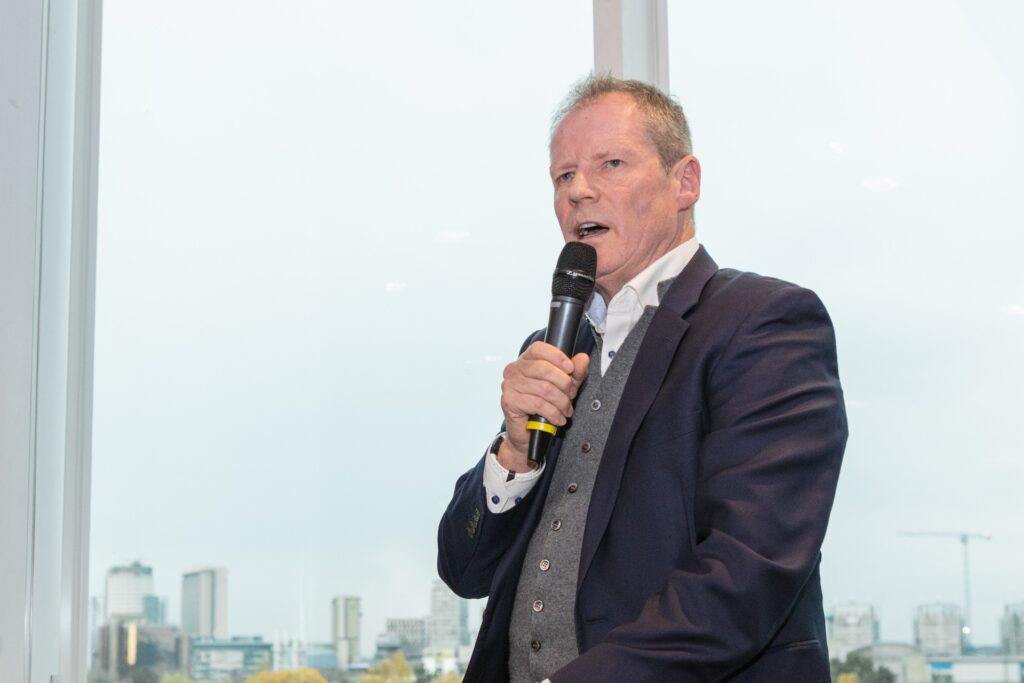 "What's one thing would I ask the government for? Money! We are on the subs bench and everyone else is on the pitch. But apparently, nightclubs don't count as culture."

"Our recovery has been brilliant. Its been the biggest reset ever. But you try telling a queue of 500 to download the NHS app at 1am."

Peter Marks, REKOM UK CEO
Sponsors and Funds raised for a good cause
From drinks to power banks to complementary coffees, the sponsors were very generous. Tours of the 76,000 strong Old Trafford stadium were available, as well as a photo booth, raffle, and a late night study tour around Manchester's finest. Fountain Hard Seltzer and Joos were very generous, as were the other sponsors DIAGEO, Global Brands and Red Beetle.
Tim Bacon was an industry great, founding Manchester's first Michelin star restaurant and owner of brands Gusto, Alchemist, Australasia and Manchester House. Unfortunately he died of cancer four years ago, and the Tim Bacon Foundation was created in his memory. We spoke to Jane Atherton, Charity Executive for the Tim Bacon Foundation on what this event means to the charity and the importance of celebrating late night culture.
"We work closely with the hospitality industry to raise money for cancer research, patients and their families. We rely on events like this to raise funds and awareness. We've already raised around £12,000 today. In 2022, we have a few big events launching and anyone who would like to get involved can find us at the Tim Bacon Foundation site."
Their in-house initiatives include £1 donation on the guest bills, donations from special food and drinks menus, and organising company pub crawls, dog walks and festivals. If you would like to join their fabulous bunch of supporters then please contact janeatherton@timbaconfoundation.co.uk.
Late Night Lunch Gallery