New COVID rules came into effect as of 15th December in England. In addition, from 27th December, Nightclubs in Wales will be forced to close.
Peter Marks, the head of the UK's biggest nightclub and bar operator, Rekom, which runs 42 venues, said to a press outlet that the group would need to hire about three extra security staff at each venue to implement the measures. "It is all a nightmare," he said. "We need more staff in an age where security staff are hard to come by." He said bookings at the group's clubs in Scotland and Wales had taken a hit after mandatory COVID passports were introduced there.
Here's what nightclub owners and managers need to know to be prepared.
7 actions nightclubs need to take to be prepared for Plan B: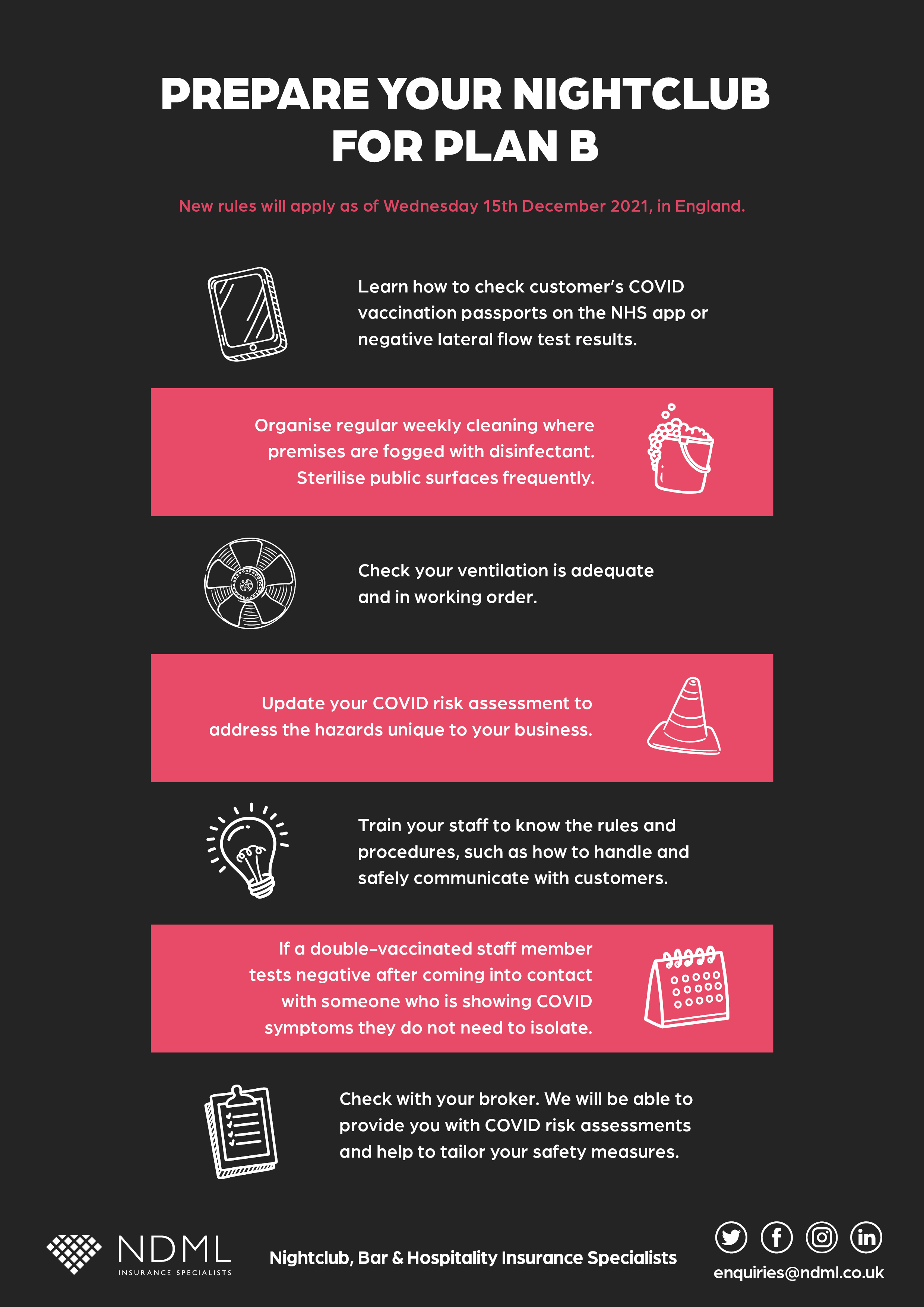 Ensure you are ready for the new restrictions by reviewing these 7 key areas.
1. COVID Vaccination Passports in Nightclubs
Learn how to check customer's COVID vaccination passports on the NHS app or negative lateral flow test results. This has already been widely successfully enforced by many sporting events and concerts and can be done in parallel with ID checks. More security staff may be needed, as well as stronger queue enforcement.
2. Sterilise and Disinfect
Regular cleaning should be arranged where your premises are fogged with disinfectant. Sterilising public surfaces frequently is crucial, especially areas most commonly used by members of the public such as bannisters and cloakrooms.
3. Ventilation
Check your ventilation is adequate and in working order. Open doors and exits to allow the air to flow freely. Ensure the air is clean, sterile and not blocked. This should be done by a professional.
4. COVID risk assessment
Your COVID risk assessment need to be updated to note the measures you are taking to align with the new regulations. The new rules are available here:
5. Staff training
To follow the rules, the staff must know the rules. Educate your staff on the new procedures in place and that they are required to safe space away from customers as much as is feasibly possible. This is for the business's and their protection. Communication and up-to-date knowledge is key to a maintaining healthy, happy workforce.
6. Double vaccinated staff and isolation
All double vaccinated staff do not have to isolate if they suspect they have come into contact with someone showing symptoms of COVID-19. They can take a PCR test, and upon confirmation of a negative result, are able to return to work. Working from home where possible is advised.
7. Use your Broker
Check with your broker about your specific needs and covers. NDML understand your business, its unique needs and requirements; we are here to help and will always provide you with the correct resources you require. Resources, information, risk assessments and tailored safety measures, NDML is here to help, through the bad times and the good.