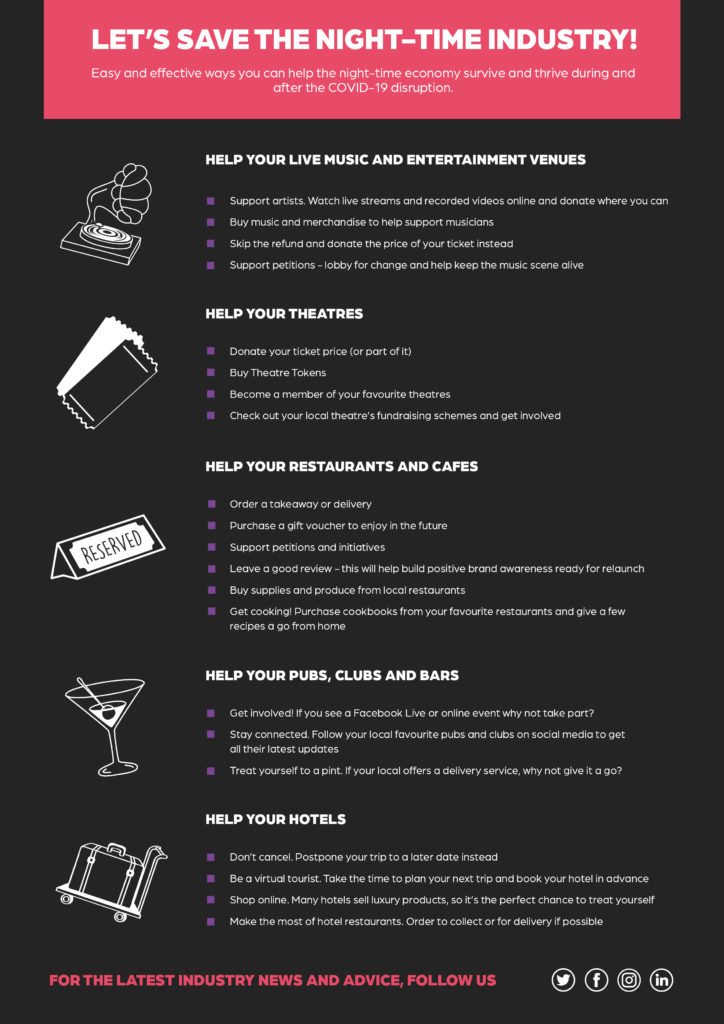 Let's work together to save our economy
These are challenging times for the night-time industry. Venues across the country have been forced to close their doors for weeks, and possibly months. Though the government has announced a range of support schemes to help businesses and employees, the current situation means many venues and businesses are still unsure if they'll ever be able to reopen. The NTIA are calling for a total freeze of the economy to allow businesses with the industry a better chance of fighting the effect of temporary closures. In the meantime, businesses are relying on the ongoing support and loyalty of its customers.
So how can you help the industry?
Many businesses are offering the opportunity to 'Pay It Forward'. This means you make a purchase in advance – such as a gift voucher. Keeping cash coming into night-time venues is incredibly important so, if you can, play a part in helping to save your favourite venues. 
You can also dig deeper and find out what your local venues are getting up to. Perhaps they're running an online quiz, or offering a takeaway / delivery service. You might be able to get craft beer at your local supermarket, but don't forget that your support for local venues could make all the difference when it comes to keeping them afloat. 
Get involved and stay sociable
It's easy to forget that there's a whole world outside your four walls while in isolation. Countless musicians, entertainment venues, arts organisations and pubs are hosting digital events to keep connected with their audiences. 
Not only does getting involved give you something great to do during a long week stuck indoors, it gives back to the night-time economy. Online events help venues and artists reach a wider audience, lobby for donations and promote their business. 
Stay informed of all the incredible online activity happening across the country. Read industry news, follow your favourite venues on social media and sign up to newsletters to be the first to know what's going on. There are several digital campaigns happening, such as United We Stream. This gives people at home the chance to experience live music and comedy from the comfort of their own sofa. 
Join the campaign
Follow the Save Our Scene campaign for more advice and information on how to help save the night-time industry. 
There are several online petitions across the industry, lobbying for government and industry change. Follow the NTIA to find out more about the campaigns the industry is getting behind. Do your bit to sign up and support. The more names signing a petition, the more likely to have a wider impact. 
We're doing out bit to help save the night-time industry during the coronavirus disruption. Follow us on social media or get in touch with the team!