How to prepare your nightclub for the summer
Festival season is hotting up, the summer schedule is filling up and nightclubs need to be prepared in order to maximise their take. Carrying out a few jobs before the busy summer period will ensure your nightclub makes the most of a long-awaited restriction-free summer.
Venues, now more than ever, need to take advantage of all the opportunities this summer to help recoup money lost over the pandemic.
As Head of Operational Strategy from the HSE, John Rowe explains:
"The hospitality sector will be looking forward to an exciting and busy period, as it prepares for the spring and summer seasons, which will include major events such as the Commonwealth Games and the Queen's Platinum Jubilee. Those responsible for outdoor spaces will be planning to make use of them. It is important to make sure electrical equipment is in good condition, particularly as it may have been unused and in storage for a long period of time."
Clubs need to use the tools at their disposal to combat the cost of living and tax increases and try to maximise their profits. NDML understand this, and are here to provide advice, guidance and risk averse toolkits to help get clubs summer-ready.
Jobs nightclubs need to carry out before summer:
– Arrange checks for outdoor installations before the busy summer period begins
Many nightlife venues may have used lockdown and closure as an opportunity to update and refit their venues. The Health and Safety Executive (HSE) is stressing that venues should arrange for a competent person to carry out electrical installation checks. The fixed installation and electrical appliances should be inspected, tested and maintained in accordance with the Electricity at Work Regulations 1989.
Services nightclubs should definitely be considering before summer include; Portable Appliance Testing (PAT Testing), Fixed Wire and Electrical Condition Reports, and Equipment Calibration.
When it comes to proper usage of electrical installations, Stallard Kane has provide a list of tips to remember: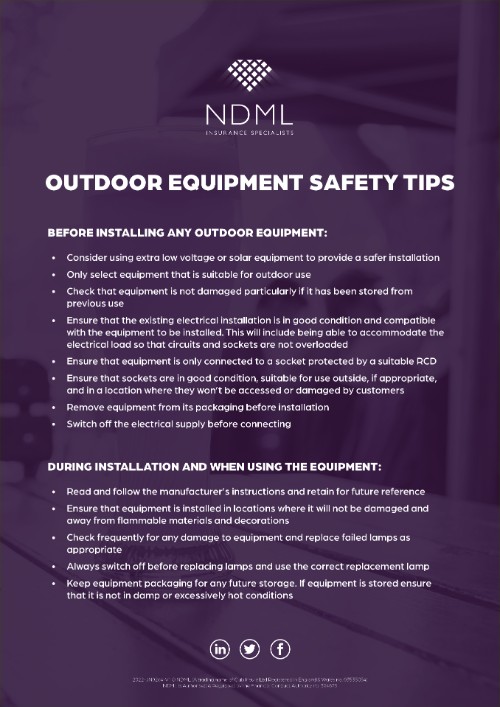 The poster reads as follows:
Before installing any outdoor equipment:
Consider using extra low voltage or solar equipment to provide a safer installation
Only select equipment that is suitable for outdoor use
Check that equipment is not damaged particularly if it has been stored from previous use
Ensure that the existing electrical installation is in good condition and compatible with the equipment to be installed. This will include being able to accommodate the electrical load so that circuits and sockets are not overloaded
Ensure that equipment is only connected to a socket protected by a suitable RCD
Ensure that sockets are in good condition, suitable for use outside, if appropriate, and in a location where they won't be accessed or damaged by customers
Remove equipment from its packaging before installation
Switch off the electrical supply before connecting
During installation and when using the equipment:
Read and follow the manufacturer's instructions and retain for future reference
Ensure that equipment is installed in locations where it will not be damaged and away from flammable materials and decorations
Check frequently for any damage to equipment and replace failed lamps as appropriate
Always switch off before replacing lamps and use the correct replacement lamp
Keep equipment packaging for any future storage. If equipment is stored ensure that it is not in damp or excessively hot conditions
– Schedule preparations for the summer's events
The Commonwealth Games, the Queen's Platinum Jubilee and the Football World Cup are huge events scheduled to take place this summer. Bar, pubs, nightclubs and restaurants should all expect to see significant increase to custom around these peak times and should plan ahead accordingly.
This may involve putting on an event, and moreover marketing it appropriately with enough time beforehand. Hosting a sporting event comes with extra risks including increased capacity, increase cash on site and more concern over slips and trips. Before putting on an event, please discuss it with your broker to ensure you have the adequate cover in place.
For tips on running an event see our information:
Increase stock and cash reserves
It is highly expected that business will pick up significantly this summer. After two years of restrictions, the general public will finally be able to fully let their hair down, seeing a huge wave for the hospitality and leisure sector. When this happens, as with before all large events, bars and nightclubs need to ensure they have adequate stock and cash reserves.
However, it's important to review your Sums Insured to make sure you're still adequately covered. We recommend talking to your broker to ensure you are fully covered if a fire or flood were to catastrophically ruin your newly purchased increased stock.
Tickets sales, increased bookings, more food and beverage sales – this summer will be the most period of the year. However ever are highly prone to crime and thefts. We recommend banking your takings more regularly over summer to avoid too much money being stored in an on-site safe. We also recommend investing in more secure safes and procedures to ensure your increased cash is more carefully protected.
Check equipment condition and provide an inventory
Equipment which may have been bought new or left unused for a while need to be checked. Under the Provision and Use of Workplace Equipment Regulations 1998, as well as The Electricity at Work Regulations 1989, companies are required to ensure effective maintenance of electrical appliances.
The checks are advised by brokers as it can significantly reduce risk of fire and electric shocks on the premises. Regular checks provides reassurance to staff and visitors and is helpful for brokers. We require an inventory of your working equipment to provide relevant advice and also ensure your Sum Insured is correct.
Have your broker validate your insurance
A final key job nightclubs should undertake before summer is to ask their broker to double check their unique policies. If you're nightclub does not have tailored insurance, why now? At NDML, we ensure all of our clients are fully covered with a comprehensive portfolio. We use our experience to negotiate with A-rated insurers, only, for the best possible, most competitive plan.
At NDML we will validate your insurance, make sure your policies suit your club and that you are never underinsured. Underinsurance risks having to put up the money if a claim were to be made. Having an accurate up to date valuation for your property, equipment and outdoor installations will save you and your nightlife business money long-term.
Ultimately, the best way to ensure you are protected is to use a broker. Brokers are experts in insurance law and safeguarding the finances of a business. The very best brokers will execute risk assessments and work with your business to help you deliver the best experience. For advice and insight on how to stay protected, contact NDML.
Please Fill Out Our Brief Questionnaire To Help Us Understand Your Needs: